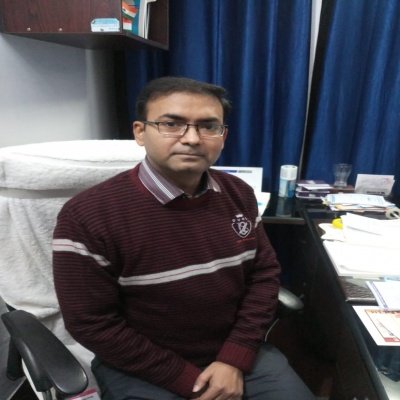 Dr Ajit Kumar

Neurologist

Medical Registration Verified

MBBS, MD (Medicine), DM (Neurology)
500 at clinic

10 Years Exp.
Monday:
07:30AM - 09:00AM
02:00PM - 07:30PM
Tuesday:
07:30AM - 09:00AM
02:00PM - 07:30PM
Dr Ajit Kumar is a Consultant Neurologist working in the Department of Neurology/ Medicine of Patna Medical College and Hospital. He is also working as Consultant Neurologist in corporate hospitals like Ford Hospital, Shiva Hospital, Shyam Hospital and various other hospitals in Patna. He has been practicing neurology since 2009 with special areas of interest which include Headache, Neurological Pain, Epilepsy and Stroke.
He has organized several camps for poor in various villages in Bihar.
Medishala-Consult doctor online | Book Clinic Visit

Common questions & answers
Experience Of Dr Ajit Kumar
Dr Ajit Kumar have 10 Year Experience
Clinic Address Of Dr Ajit Kumar

MIG-194,near Malahi Pakri road,kankarbhag,Patna.
Dr Ajit Kumar Education Qualifications

MBBS, MD (Medicine), DM (Neurology)
Dr Ajit Kumar Speaks

Hindi,English
How well is Dr Ajit Kumar rated on Medishala.com ?

Visitors of Medishala.com rated this place with an average of 4.2