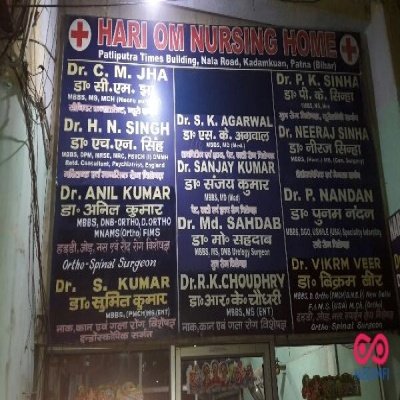 Hari Om Nursing Home

Orthopedist

Medical Registration Verified

Dr Anshu Anand - MBBS, MS Orthopaedics
Dr C.M Jha - MBBS, MCH
Dr S K Satyapal- MBBS ,M ch
Dr Sumit Kumar -MBBS ,MS ENT
Dr H N Singh-MBBS,DPM,MRSE,MRC
Dr P K Sinha-MBBS,M.S,M ch
Dr P Nandan- MBBS,DGO,USMILE
300 at clinic

15 Years Exp.
Hari Om Nurshing Home offers treatments from the best doctors in the field of Joint Preservation Surgery, Joint Replacement Surgeon, Orthopedic Trauma Specialist, Orthopedist,Spine Surgery, Gynecology,Urology,ENT,Neurology etc.Our goal is to provide a compassionate professional environment to make your experience comfortable. Our staff is friendly, knowledgable and very helpful in addressing your health and financial concerns. Doctors have thorough knowledge of problems and they tackles the problems and challenges with his clinical experience.
All Professional Doctor of Hari Om Nursing Home
Orthopaedic Doctors Dr Anshu Anand And Dr Vinay Kumar Fee-300
Neurologist Doctor Dr C.M Jha Surgeon Fee -1000, Dr H.N SinghPhysician Fee-500.
General Surgeon Dr Neeraj Sinha. Fee 400.
Urologist Doctor Dr P.K Sinha Fee 400.
Gynecologist Doctor Dr Poonam Nandan. Fee 400
General Physician Dr Sanjay Kumar. Fee 500
ENT Dr Sumit Kumar
Plastic Surgeon Dr S K Satyapal
Medishala-Consult doctor online | Book Clinic Visit

Common questions & answers
Experience Of Hari Om Nursing Home
Hari Om Nursing Home have 15 Year Experience
Clinic Address Of Hari Om Nursing Home

Patiputra times Building,Nala Rd,KadamKuan Chowk
Hari Om Nursing Home Education Qualifications

Dr Anshu Anand - MBBS, MS Orthopaedics
Dr C.M Jha - MBBS, MCH
Dr S K Satyapal- MBBS ,M ch
Dr Sumit Kumar -MBBS ,MS ENT
Dr H N Singh-MBBS,DPM,MRSE,MRC
Dr P K Sinha-MBBS,M.S,M ch
Dr P Nandan- MBBS,DGO,USMILE
Hari Om Nursing Home Speaks

Hindi,English
How well is Hari Om Nursing Home rated on Medishala.com ?

Visitors of Medishala.com rated this place with an average of 4.2